Customer Relationship Management (CRM) & List Managers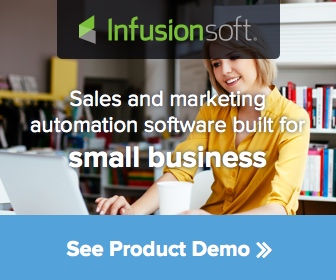 Infusionsoft is the gold standard of CRM systems. It is E-mail marketing and sales platform for small businesses, including products to streamline the customer lifecycle, customer relationship management, marketing automation, lead capture, and e-commerce. Not only does it have a fully integrated shopping cart, but it has autoresponders, affiliate / referral program, sends broadcasts, and opportunity stages.  I am an Infusionsoft Certified Partner so I can get you the best deal – sign up here to view the demo.
ONTRAPORT (formerly Office Autopilot) is right up there with Infusionsoft in CRM systems. It has all the functionality with exception of the "add to cart" feature that Infusionsoft has.
Drip is relatively new and works a lot like the bigger name programs. It boasts an impressive visual workflow builder, automated actions, and tags so that you can segment your list.
Prior to switching to Infusionsoft, I used Aweber for my autoresponders and to send my newsletter, e-courses, and other products. It's versatile, secure, and integrates with other programs (from Paypal, eJunkie, to Membergate).
A close competitor to Aweber is iContact. It has opt-in forms, autoresponders, and can send broadcasts. Pricing is similar and there are only a few features that iContact has that Aweber does not, such as image hosting and surveys. Overall, I have to favor Aweber, but it's definitely worth looking at.
ConstantContact is awesome! I used that program when I first started out and only had a newsletter. Just remember that this is mainly for sending out newsletters so if you want to provide programs, products, etc. then you'll need the other programs as well.
Shopping Carts
1ShoppingCart and 1AutomationWiz are great if you need a middle of the road shopping cart solution or if you want to integrate autoresponders or digital delivery options within your shopping cart.
WPeStore and WPAffiliate WordPress Plugins-  A complete solution to sell digital products from your WordPress blog securely.  If you don't want to paying ongoing fees and commissions to sell via a third party web site, then WPeStore is a great solution. At only $49.95, you can sell your digital products, integrate with autoresponders, easy checkout and it's a multi-site license so no need to buy multiple licenses for your other sites. While you're on the site, check out WPAffiliate add-on for only $30 more.
If you want something as a shopping cart as you are starting out, I recommend e-Junkie. It is a very inexpensive, and you can increase your plan as you grow. For example, for 10 products it is only $5 per month. It also has a built-in affiliate program (albeit very spartan!) and it integrates with Paypal so no need for an additional merchant account.
Clickbank is an marketplace for digital information products. It aims to serve as a connection between digital content creators and affiliate marketers, who then promote them to consumers. It's pretty easy to use and only requires a one-time payment of for the product activation fee after which you can add as many products as you want to your marketplace. This is great to use if you want to get up and going quickly as it automatically has the affiliate piece built-in.
Teleseminars / Webinars
Instant Teleseminar by Xiosoft – If you are going to be holding teleseminars and want a professional delivery method, then InstantTeleseminar is for you. It's easy to use, customizable, and provides Q&A submission page, replay page, slide presentation, and branding options. They provide a bridge line for up to 250 guests on the line and many more on the webcast, but you can also use a different bridge line if you prefer.
Zoom is rapidly becoming a favorite tool in the online coaching world and those who do webinars. This video and web conferencing service allows cross-platform messaging, file sharing, and video, voice and screen sharing.  One of its biggest draws is its high-quality HD video and features include recording, screen share, video conferencing, and audio calls. I also use it for my webinars, which you can upgrade your plan for just the month.
Membership Sites / Opt-In & Sales Pages
OptimizePress lets you create any kind of pages for your business using WordPress. You can create landing pages, sales & marketing pages, training course pages, webinar registration pages, membership portals, product launch funnels, blogs, and mobile-ready versions of all pages. I use OptimizePress for all of my online training courses. You can use the theme or the plugin, which allows you to do one-pages much like LeadPages. I like it because it's a one-time cost and I don't have to pay monthly (unless you join their club and you get templates every month).
Wishlist Member is a powerful, yet easy to use membership solution that can turn any WordPress site into a full-blown membership site. I use this in conjunction with OptimizePress to deliver training programs and control membership permissions. It's a WordPress plugin so it's super lightweight and easy to use.